Doctors and healthcare professionals all over the world have been the solid foundation of this pandemic, without their hard work and perseverance, so many lives would have been lost. In Malaysia, we pride ourselves on our amazing healthcare having excellent service at both private and public hospitals. 
With our country crossing 1 million cases, the daily numbers reaching an all-time high and hospitals being pushed to the brink of capacity, healthcare workers have been reaching their breaking point. Not only are they overworked and have been facing the brunt of this pandemic, but they have also not been given the job security that they so deeply deserve.
To stand up for their rights, doctors all over Malaysia protested under the Hartal Doktor Kontrak movement and walked out of their respective posts at 11am yesterday.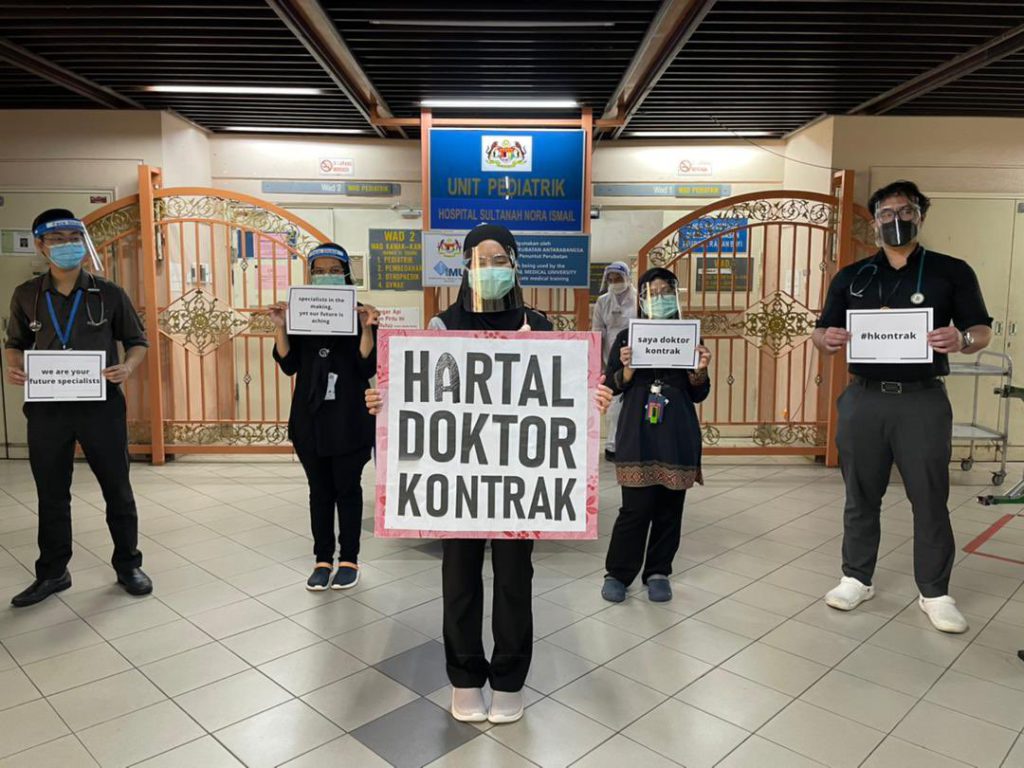 The demands of this strike are simple: 
That the doctors who are contracted be given the opportunity to become permanent staff with all the additional benefits that come with it. Given that it is actually within the mandate of their training, what these doctors are asking for is just what they have been promised upon their graduation. 
We took some time to speak to one doctor who has been working on the frontline:
1- Why do you feel it has come to the point where there is a need for a strike?
The contract system has been in place for 5 years now. In the beginning, we were promised that we would be absorbed as permanent doctors (and thus a step up in pay grade, get all the associated benefits, etc) once we finished our 2-3 year housemanship. But then, the government said we would be continuing our contract, and that if you fulfil certain criteria, you would be able to obtain a permanent post. But then they were in turn not transparent on WHAT these criteria were… the list of lies and false promises goes on and on. And now, five years on, when the first batch of contract MOs are facing the end of their contracts, with no guarantee that the contract itself will be renewed… they're faced with no jobs. They have to go and either work in the private sector or seek greener pastures in some other field. 
Imagine that.
The other thing is – contract doctors cannot further their studies and become specialists under this current contract system. Contract doctors are not eligible for the local master degree programmes that trains specialists. For certain specialities, you can attempt to take what is called the parallel pathway – to sit for external exams from the UK or Australia, paid from your own pocket of course, and to get accredited via that. The problem with this is that you need a certain amount of hours and weeks and years clocked in before this parallel pathway can accept you as a candidate. And if you're on a contract that has a clock ticking, and without a guarantee that you can fulfil that amount of hours, you're just wasting your money because you cannot be a specialist anyway. 
All of this, all the years of being told that you should shrug off these problems and focus on your patients when you're getting burned out and disillusioned… I think that's why it's come to this point. This tipping point.

2- This process of going from contract worker to permanent staff has been commonplace amongst medical fresh grads, is this a call for permanent reformation?
There needs to be a reform overall I think. If you look at doctors in the UK, all of them are hired on a contract basis. The difference is that they have a chance to further their studies, and have fair and equal benefits among all. If you want the contract doctors to be satisfied, at least make it so that we have the same benefits and opportunity to further our studies as our permanent counterparts. Either that being by making everybody permanent, or making everybody contract, we don't really care. We just want what we're due.

3- Do you feel like you have been put in a position where you have no choice but to work under contract?
There is no choice. In Malaysia, to qualify as a fully registered doctor, you need to complete your Housemanship (internship) in a government hospital. The only way you can do that now is by being hired as a contract houseman. Upon completing your housemanship, you are upgraded to a contract MO (lower paygrade, fewer benefits than permanent MOs). You want to specialise? In Malaysia – only possible in government service. 
Unless you want to be a private GP, or a medical officer in a private hospital… I don't see how there's any choice other than being a contract doctor in the government service.

4- What role has the pandemic played in sparking this movement?
The pandemic has highlighted a lot of the flaws in the current contract system. It is easier to mobilise contract workers (I am not entirely sure the reasons why), which is why you see 60-70% of our COVID frontliners being made up of contract doctors. We can be sent across the country, from Peninsular to Sabah/Sarawak within a week's notice. We're thrown into COVID hospitals, COVID wards, MAEPS, PPV centres, with barely enough time to breathe. Because we are quote-unquote dispensable, it is easy for the government to make use of us. And just like wet tissue paper, we are then discarded once we have fulfilled our purpose. 
That's a metaphor I've often used in the past year and a half. With no news on whether our contracts will be renewed in 5 years, after having thrown us to the dogs so to speak in this pandemic, it's no wonder we feel disregarded. Unappreciated. All the hashtag thank you frontliners, falls flat when you realise no matter how much you praise us and clap for us it won't matter if we're jobless in a year once the pandemic is over.

5- If it wasn't for the dire state of covid in our country, would you seek employment elsewhere?
I'm lucky in a sense. I graduated from a university that allows me to have GMC registration (the UK equivalent of the MMC). At any point in time, if I decided that working in Malaysia was enough, I could theoretically up and move to the UK and practice there. And I've thought about it many times. A lot of my classmates have done so themselves, and sometimes ask me why I haven't gone over myself. 
The simple answer is that – Malaysia is my home. I became a doctor to help people, and who better to help than those in my own country?